A Brief History
Rustic interior design is based on early settlers throughout the US who made their homes far from cities during the 19th century.
Many of these pioneers brought little to no furniture with them as space was scarce and furniture was heavy.
As people settled and made their homesteads, their homes were quickly put together with materials found locally.
While vastly different than the traditional parlors of Europe or the Colonial styles in Northeastern states, the rustic interior design has a charm all its own.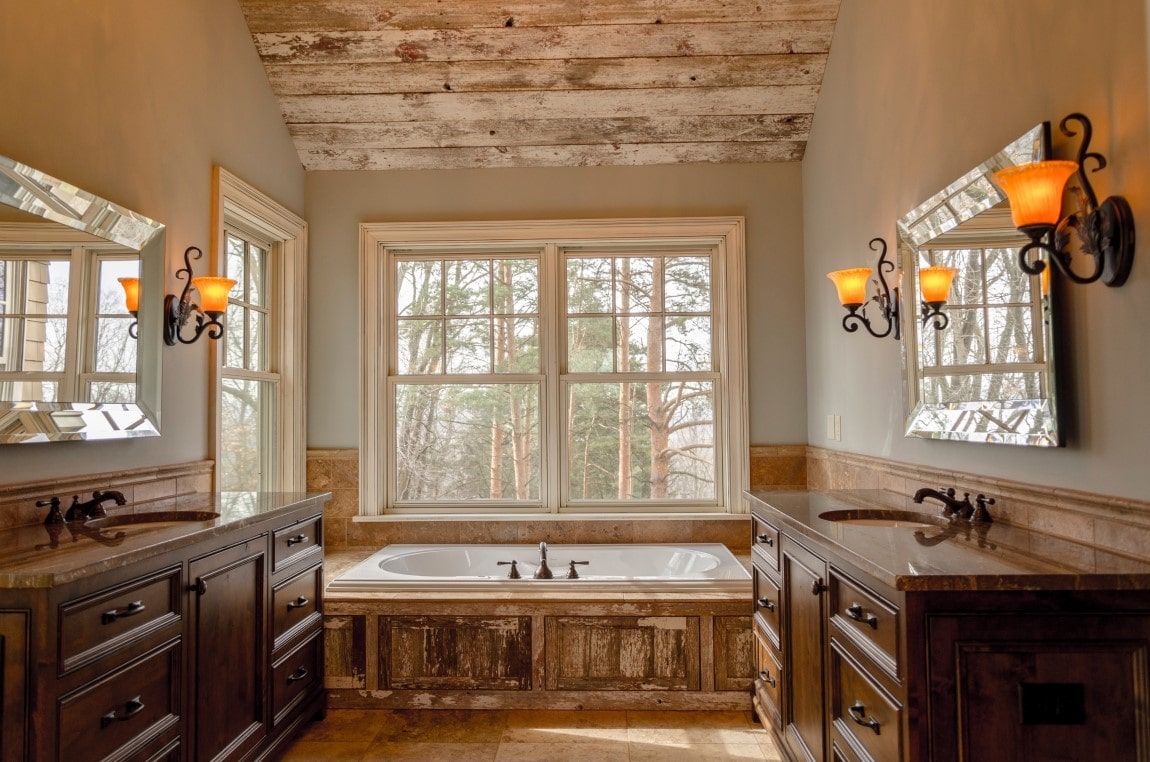 The Definition of Rustic Style
Rustic interior design are defin ed by ruggedness and letting natural beauty shine.
in addition, The focus is to create a relaxing atmosphere by highlighting the use of wood, stone, leaves, and other organic elements.
Rather than worry about perfect lines, rustic allows the character of each piece to stand out.
From knots in the wood to rust on metal, this style celebrates character in a big way.
Characteristics of Rustic Interior Design
The entire goal of rustic interior styles is to be as natural as possible.
This is not a style for shiny chandeliers, plastic furniture, or cold color palettes. It's focused on warmth and comfort.
From iron accents to hardwood floors, this style should feel like the glow from a fire.
Layer in rugs, woven blankets, reclaimed pieces or furs (real or faux) for added depth.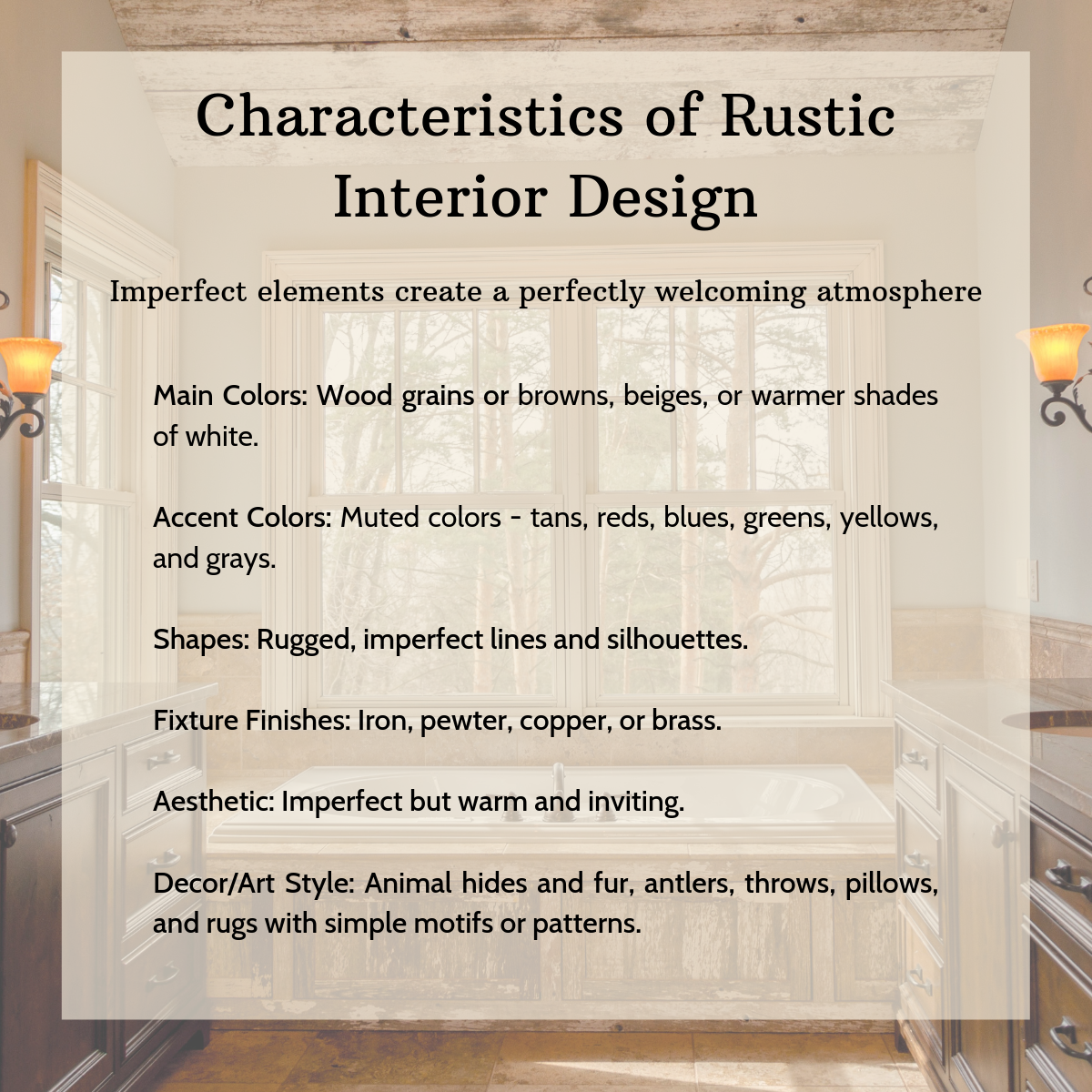 Design:
---
"Rustic interior design is a popular style due to its use of raw and simplistic natural elements. The goal is to bring life to a space with inspiration being drawn from mountain living and vintage styles." – Mahsa Gholizadeh, Interior Designer, Design by Mahsa
---
Design is focused on comfort and creating an inviting atmosphere that doesn't necessarily match.
Features wood elements, the more imperfections and rougher the construction the better.
Accent with other natural elements such as stone, leaves, and animal hides or antlers.
Simple designs reign, with function over form.
Color Palette:
---
"It's nice to bring some of the beautiful colors of nature from the outside to the inside. Colors like blue, brown, beige, green along with different shadings of each look inviting." – Doreen Amico-Sorell, Interior Designer, Sorell Interiors
---
Main colors should rely on what's found in the environment. Forest greens, rich browns, wood grains and tans are all perfect. White is also simple and enhances other colors within the room.
Accent colors include muted reds, blues, black, and plaid patterns.
For metal finishes, accent with iron, copper, brass, or oil-rubbed bronze.
Décor:
---
"Rustic emphasizes simplicity and comfort in all elements. A fireplace, comfy furniture, soft throws, and a tasteful antler piece will go a long way in achieving that mountain style look." – Martha McNamara, Director of Design and Product, Vevano Home
---
Wood is essential to the rustic style. Options are varied with exposed wood beams, wooden furniture, hardwood floors, or wood paneled walls.
Fireplaces or wood-burning stoves are staples in this design.
Add a variety of comfortable blankets, throws, and pillows.
Embrace textures through braided rugs, woven fabrics, or baskets.
Art relies on nature, utilizing branches, stones, antlers, or vintage iron elements.
Can You Mix Rustic with Contemporary?
You can absolutely mix rustic interiors with contemporary design.
They complement each other quite well.
Contemporary is all about what's in right now, and that is neutrals, which falls right in line with rustic's emphasis on natural tones and textures.
Contemporary is also about having clean lines, which can blend with rustic's more rugged appeal.
The key is to embrace the similarities between the two rather than try to follow the trends of both.
Rustic vs Farmhouse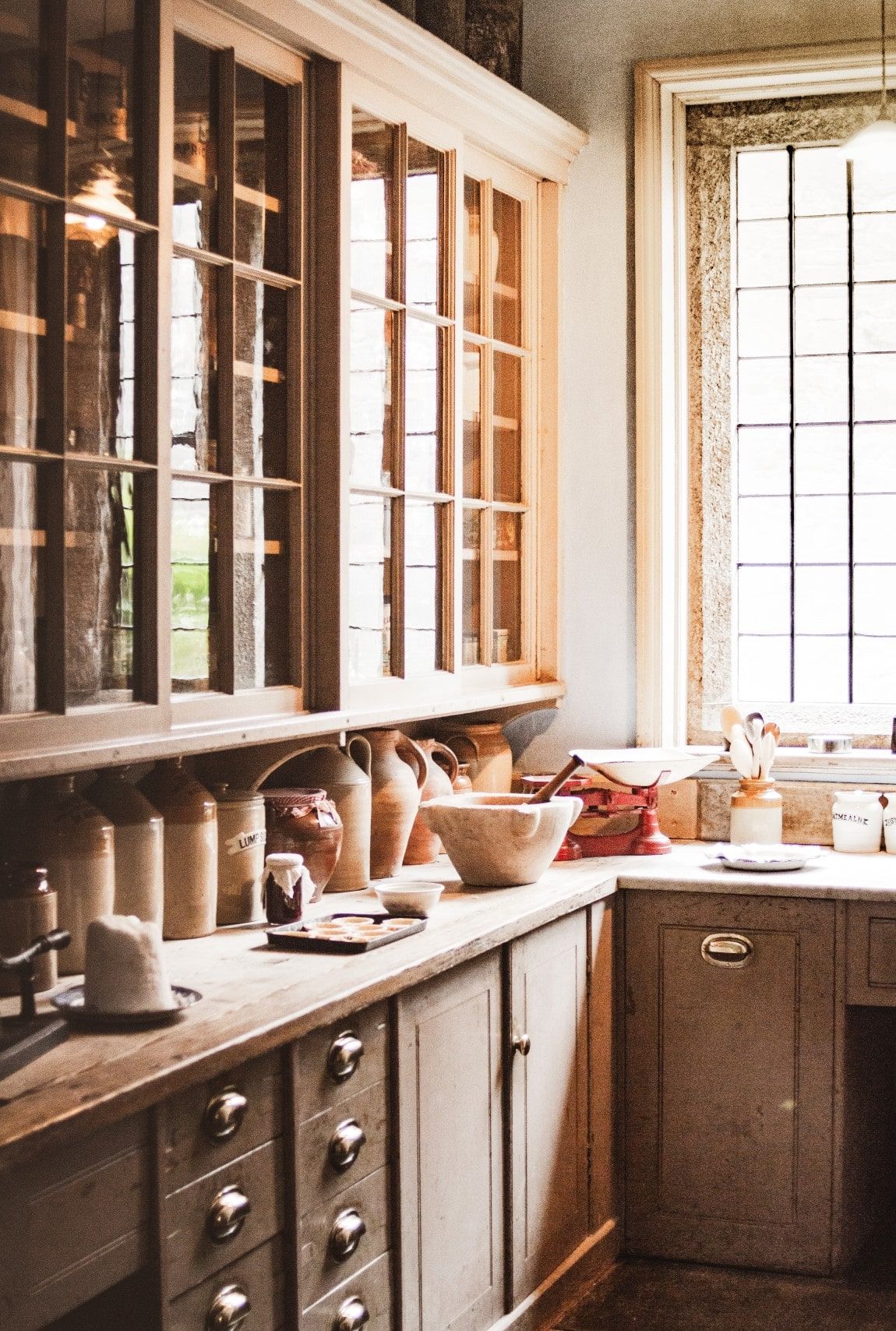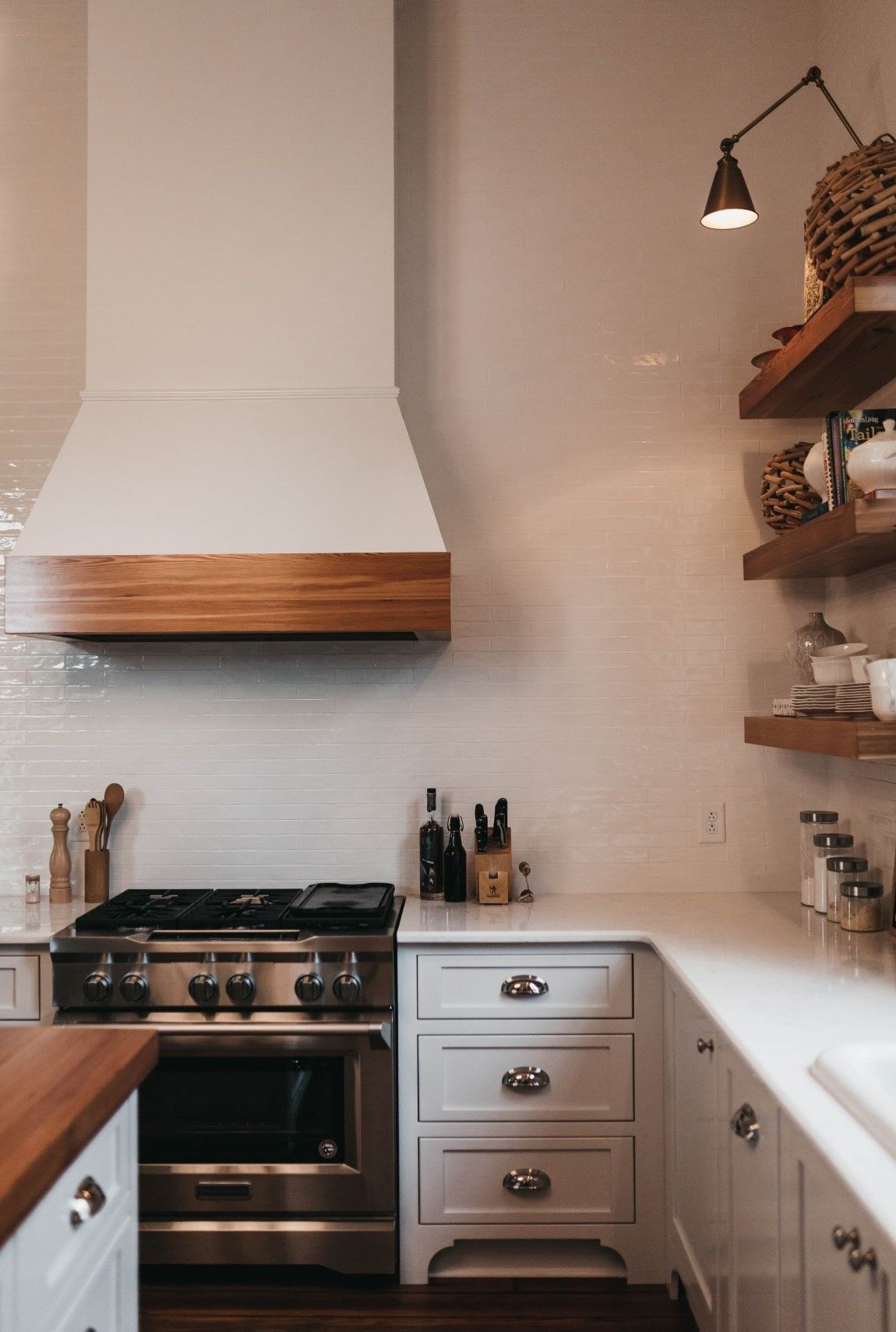 At a glance, farmhouse design and rustic design share some similarities.
Both have a focus on comfort and simplicity, but how they achieve those goals is different.
Farmhouse is simple but still relies on refined elements, with just a few rougher pieces to add charm.
Rustic, or mountain interior styles, are the opposite.
Most elements will be rugged or unfinished, with maybe a few refined pieces to make the design more contemporary.
How to Create the Rustic Look in Your Home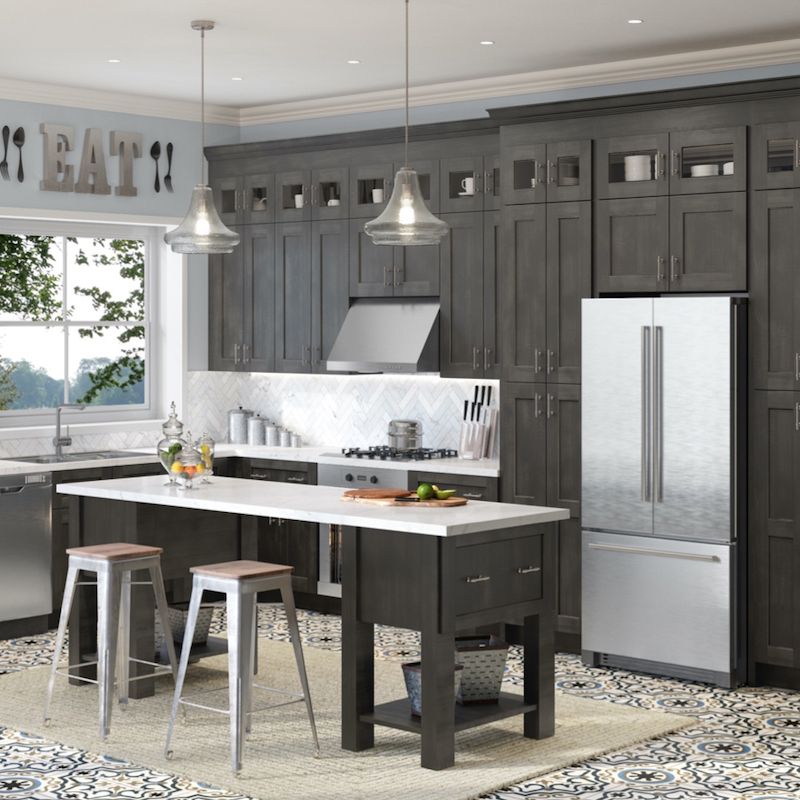 Shaker Cinder Cabinets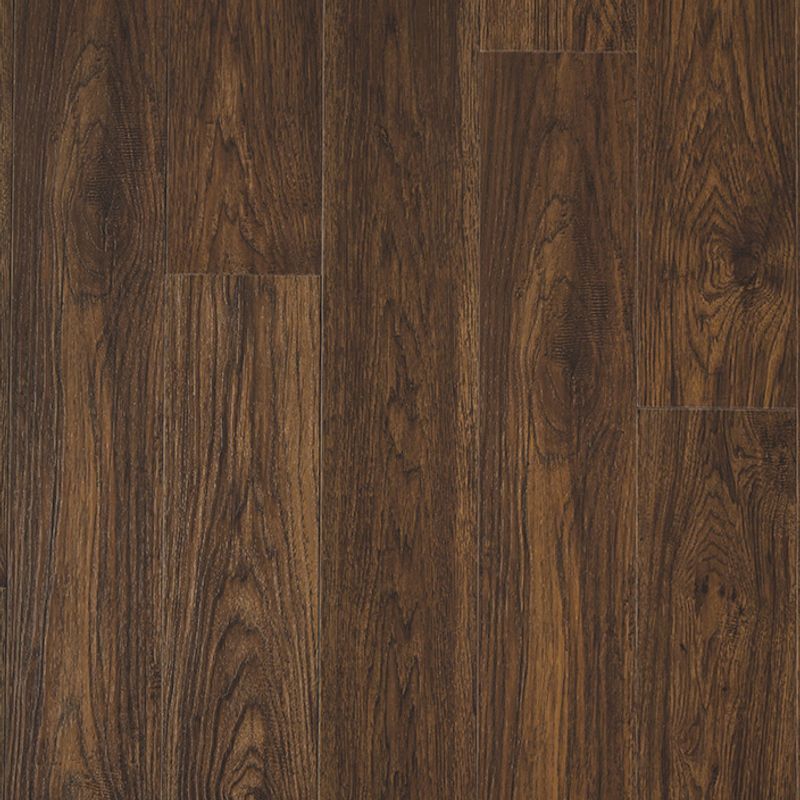 Gunstock Vinyl Plank
Harland Rug in Warm Brown
Rustic Aspen Bench
Rustic Kitchen Bridge Faucet
Four Hands Larkin Sofa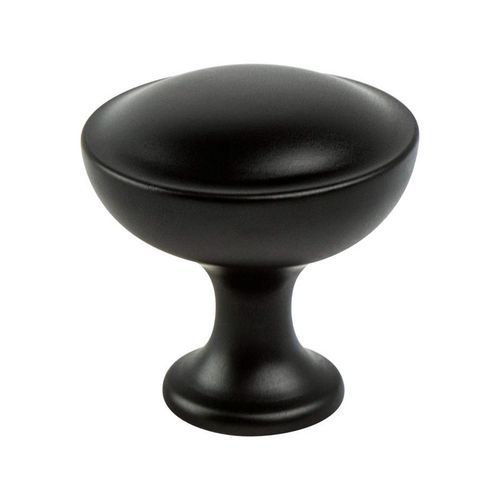 Round Knob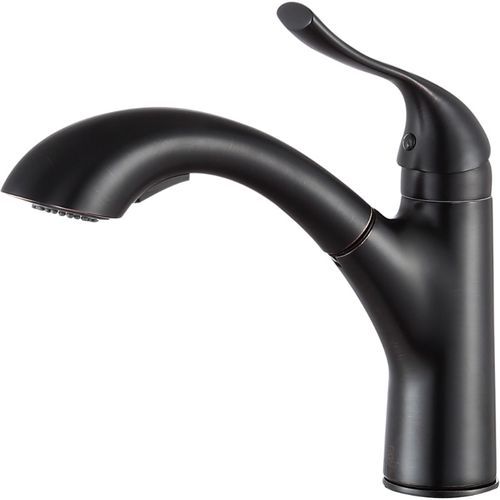 Pull-Out Single-Handle
Conclusion
Rustic interior design is a charming style that focuses on highlighting the raw elements of nature. It brings the beauty of the outdoors inside and creates an inviting atmosphere of warmth.